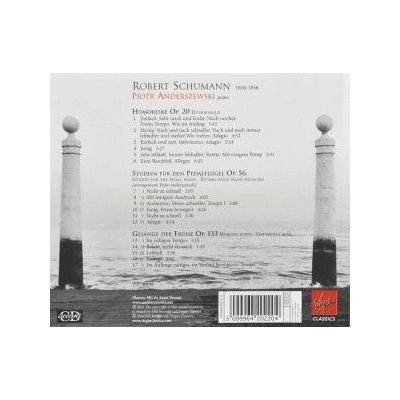 Piotr Anderszewski's Schumann album, released to mark the 200th anniversary year of the composer's birth, has been awarded Recording of the Year at the 2012 BBC Music Magazine Awards. he BBC Music Magazine judging panel says of Piotr's winning disc: 'Anderszewski proves to be utterly compelling and persuasive, teasing out an astonishing range of colours throughout.'
Schumann is a mainstay of many pianists' repertoire, but the most memorable interpreters find a personal connection between his temperament and theirs.  Piotr's Schumann recording brings together three of the composer's less frequently performed keyboard works, including the last piano music he completed, the Gesänge der Frühe. Written in 1853, the year before the composer's attempted suicide, the work is Schumann's last completed work for piano. Terse, introspective and harmonically adventurous they are expressive of the mood before sunrise.
The Humoreske of 1839, far more serious-minded and substantial than its name might suggest, is built in five discrete sections. Mercurial in it shifts of mood, it reflects the composer's report to his wife Clara that, while working on the piece, he was "laughing and crying, all at once".
Piotr Anderszewski is regarded as one of the outstanding musicians of his generation. An exclusive artist with Virgin Classics since 2000, Anderszewski's discography includes a Grammy-nominated CD of Bach's Partitas 1, 3 and 6 and a critically-acclaimed disc of works by Chopin. His special relationship with the music of his compatriot Szymanowski is captured in a highly-praised recording of the composer's solo piano works, which received the Classic FM Gramophone Award in 2006 for best instrumental disc.
[asa]B004CD3A4Y[/asa]