In the 2015 Grammy Awards, Erato labelmates Joyce DiDonato and Philippe Jaroussky went head-to-head with nominations for Best Classical Solo Vocal Album. Now the American diva and French countertenor idol have each been awarded a room of their own in the iTunes store: a dedicated online space to explore their careeres and discographies.
iTunes creates Artist Rooms for the musical legends and chart-topping sensations of today and yesteryear; Maria Callas is one of the few classical artists to be represented in this way.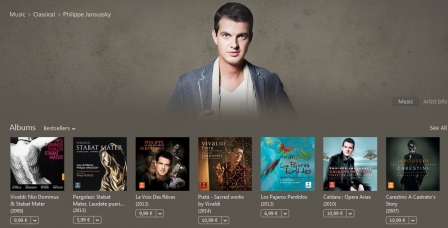 In Philippe Jaroussky's iTunes room, discover virtuoso Vivaldi arias and sombre Stabat Mater, through to his sensual albums of French poetry set to music, including the brand new release Green, exploring the musical world of Symbolist poet Paul Verlaine.
Joyce DiDonato's iTunes room, too, features some fine releases: from the gender-bending aria recitalDiva/Divo and the regal Baroque album Drama Queens to last year's award-winning Stella di Napoli.