No work by Ralph Vaughan Williams has caused more of a stir or given rise to greater speculation than his craggy and ferocious Symphony in F minor. It was written between 1931 and 1934, and first performed at Queen's Hall, London, on April 10, 1935, when Adrian Boult conducted the BBC Symphony Orchestra. Among the many notable figures present were Arnold Bax (the work's dedicatee), Constant Lambert, Albert Coates, Hamilton Harty and William Walton, who, having attended the rehearsals, told his fellow composer Arthur Benjamin that they 'were going to hear the greatest symphony since Beethoven'. An astute observation in more ways than one: Vaughan Williams himself later stated that the grinding minor ninth with which the symphony opens was 'cribbed' from the start of the finale of Beethoven's Ninth, while Beethoven's Fifth provided the template for the unforgettably expectant bridge passage between the Scherzo and finale.
Some commentators claimed that the symphony's uncompromising violence, toughness of expression and level of dissonance represented an entirely new departure for its creator. They were mistaken. In hindsight, the work can now be viewed as the culmination of an increasingly adventurous and individual period during which Vaughan Williams had further enriched and intensified his expressive and harmonic language in works such as the oratorio Sancta civitas (1923-25), Flos campi (1925), the Piano Concerto (1926-31, and which, like the symphony, also boasts a fugal finale) and the magnificent 'masque for dancing' Job (1927-30). Only later did the suggestion arise that the work's abrasive demeanour represented a warning against the rising tide of fascism. In fact, the score originally took shape prior to Hitler's rule in Germany and Mussolini's invasion of Abyssinia. In a letter from December 1937, Vaughan Williams scotched any such non-musical links: 'I wrote it not as a definite picture of anything external – eg the state of Europe – but simply because it occurred to me like this…It is what I wanted to do at the time.' (This chimes precisely with the famous – and entirely characteristic – remark he came out with during the symphony's first rehearsals: 'I don't know whether I like it, but it's what I meant.')
Even so, loyal friends and colleagues remained unconvinced, among them Boult, who wrote in the Musical Times of October 1958 that Vaughan Williams 'foresaw the whole thing [ie war] and surely there is no more magnificent gesture of disgust in all music than the final open fifth when the composer seems to rid himself of the whole hideous idea'. Personally, I've always liked biographer Michael Kennedy's description of it as 'a kind of self-portrait: the towering rages of which Vaughan Williams was capable, his robust humour, his poetic nature – all these are here'.
Of one thing, however, I am absolutely sure: the mighty Fourth enshrines a triumph of purely musical means, and its sinewy, relentless logic marks it out as arguably the most tautly conceived of Vaughan Williams's nine symphonies.
Beginning at the BBC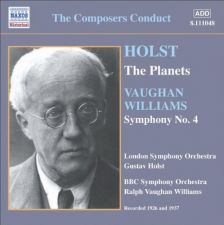 No one tears into the introductory measures with quite the lacerating fury summoned by Vaughan Williams himself in his legendary October 1937 HMV recording with the BBC SO. It's a reading of incendiary force, unstoppable in its thrusting momentum (it remains the only performance to date that clocks in at under half an hour), and with tension-levels quite extraordinarily high for a studio project – the concluding 'Epilogo fugato' has seldom, if ever, sounded more hair-raising in its cumulative frenzy. At the same time, what reserves of lyrical ardour the composer draws from the BBC strings in their soaring cantilena barely a minute into the work: the marking is appassionato sostenuto (with a further request at the bottom of the page for 'Melodic parts long bows') – and that is precisely what we get here. I'd also cite the violins' memorable cantabile tone at the start of the slow movement (itself irreproachably well paced throughout), and in the Tranquillo coda at fig 14 (7'54") listen to how subtly yet insistently the trombones choir the seminal four-note motif heard at the symphony's outset beneath the principal flute's lonely cadenza.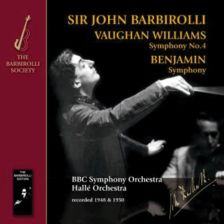 There are three further offerings featuring the BBC SO, all very different from each other. The earliest, a broadcast from 1950, finds Sir John Barbirolli at his inspirationally committed and characterful best in an adrenaline-fuelled traversal that adds some five and a half minutes to Vaughan Williams's own account. The first two movements are hugely imposing in their gaunt implacability and very real sense of dread, yet the Scherzo has an invigorating spring in its step as well as a welcome dash of humour (I hear echoes of Satan's gleeful cavortings in Job). The finale, on the other hand, has never sounded more grimly sardonic than here, its cataclysmic closing bars smouldering with indignant rage.
A bar goes missing at three bars before fig 8 (1'19") in the Scherzo, but don't let that blip deter you from investigating this wholly arresting document for yourselves. One textual observation of particular interest: Barbirolli's is the earliest version in our survey (and, indeed, may conceivably have been the first performance anywhere) to incorporate the composer's decision to alter the principal flute's last note in the slow movement from F to E.
Like Barbirolli, Sir Malcolm Sargent shrewdly obeys the con anima marking in the closing fugue, which he stokes to a satisfyingly fiery and rugged culmination. His August 1963 Proms rendering is nowhere near as harrowing as Barbirolli's but possesses many solid virtues of its own, not least an abundant musicality, clear-headed purpose and welcome clarity of line.
If recorded sound were the sole criterion, then Sir Andrew Davis's 1992 Teldec version would win every prize going – in terms of naturalness of timbre, breathtaking range and judicious balance, Tony Faulkner's engineering serves up a feast for the ears. Sadly, the actual performance seldom hits full stride: Davis fights curiously shy of any darker emotions and the finished article – for all its agreeable polish – never manages to throw off the shackles of the studio.
On his athletic 1991 recording for RCA, Leonard Slatkin sets off at a cracking pace, the explosive energy at once reminiscent of the composer's own interpretation, and throughout he draws playing of stunning refinement, unruffled co-ordination and intoxicating sheen from the Philharmonia – even at the hell-for-leather pace Slatkin adopts for the Scherzo and finale, the orchestra's composure remains commendably intact. And maybe that's part of the problem, for there's a lingering whiff of slickness here, a persistent disquiet that not all of the music's knotty rigour and (in the here slightly distended slow movement) transcendental awe has been as probingly quarried as it might have been.
Recorded just a few months before Slatkin's, Vernon Handley's RLPO account (originally for EMI Eminence and since reissued on CfP) yields the more durable rewards. His is a shrewdly plotted and memorably lucid conception. Not only does he secure splendidly alert and fresh-faced results from his willing Merseyside cohorts, he also directs with unswerving fidelity to both the letter and the spirit of the score. Handley invariably has the happy knack of alighting upon the tempo giusto (his ideally flowing Andante moderato for the slow movement comes close to the ideal). Perhaps, just perhaps, the very last ounce of shredded emotion is missing – Handley's defiantly unsensational manner doesn't fray the nerves as much as some might wish. No matter, Mike Hatch's demonstration-worthy sound sets the seal on a genuinely classy display. Minimal wallet-damage, too, at CfP's asking price.
Neither, of course, will Paul Daniel's 2003 Naxos recording break the bank: the Bournemouth SO respond with eagerness and pleasing discipline (the Scherzo goes with fine rhythmic snap), and Daniel steers an enjoyably trim, always watchful and eminently sure-footed course, but there's a lack of sheer heft (both tonal and emotional) and it remains something of a lightweight in such big-hitting company.
From North America
Let me now turn to a healthy clutch of offerings from North America – and first up come three versions featuring the NYPO. In his typically big-hearted 1965 recording,Leonard Bernstein takes a relatively expansive view of the first two movements. The result is just a little heavy on its pins and (in the slow movement especially) even a touch indulgent, though there's much to savour: listen to the bleached intensity of the strings in the first movement's ineffably haunting coda and also the way that Bernstein teases out the sinewy logic of Vaughan Williams's enjoyably knotty counterpoint – such reassuringly solid violas, cellos and basses from the Meno mosso at fig 15 (5'23") in the first movement's recapitulation. Apart from a touch of raggedness in the divided violins' fearsomely tricky pp leggiero writing around fig 10 (1'38"), theScherzo has real fire in its belly and Bernstein whips up the finale's 'Epilogo fugato'into quite a frenzy.
Dimitri Mitropoulos's 1956 version with the same orchestra is a rather less self-aware, more cogent affair, yet with no loss of intensity. Again, the orchestral playing is splendidly alert and unfailingly eloquent (nowhere more so than in the slow movement), and my sole reservation of note is that Mitropoulos rather skates over the devastatingly potent (and sublimely inevitable-sounding) return – at fig 13 (2'55") in the finale – of the Lento material from the end of the first movement.
Music & Arts has also unearthed an utterly compelling account from this same team captured three years earlier at Carnegie Hall. Perhaps not surprisingly, given its live provenance, this has an extra freedom, edge-of-seat danger and combustible spark that give it the edge over its studio counterpart: lyrical ardour and tender compassion combine to unforgettably moving effect in both the first-movement coda and all of the succeeding Andante (where one can almost feel the tears spilling from the violins' opening cantilena). A thrilling find, in sum, which offers ample evidence as to precisely why Mitropoulos's deeply felt interpretation won the enthusiastic approbation of the composer. With sound that is remarkably vivid for its vintage, this is most definitely worth hunting down.
I have a lot of time for Peter Oundjian's live performance from 2011 with the Toronto SO, an intelligently paced affair with cogent musicality, muscular grit and real guts in its favour, yet also generously flecked with newly minted observation. What's more, his home-town band respond in conspicuously eloquent and eager fashion, the string-playing (in the slow movement especially) displaying both striking composure and nourishing expressive fibre.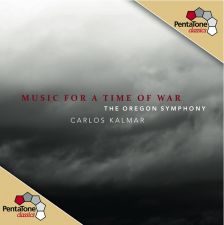 In purely sonic terms the Canadians are outgunned by Carlos Kalmar and the Oregon Symphony on Pentatone Classics, though the slightly dry acoustic mitigates against the last ounce of hush (you'd never guess the flute solo at the end of the slow movement was marked pp). This is a superbly proficient display and obviously the result of painstaking preparation, but Kalmar's interpretation is wanting just a fraction in penetration and grip (the finale's main Allegro molto strikes me as a little too flashy to be entirely convincing), and there's the occasional bronchial contribution from the auditorium to contend with, too.
Leon Botstein's disappointingly laboured (and, at times, none-too-tidy) rendering at the helm of the American Symphony Orchestra need not detain us here, but do check out an audibly galvanised Boston Symphony under the feisty direction of Sir Colin Davis from October 26, 1973 – just listen to Everett 'Vic' Firth's gunshot timps ricochet around Symphony Hall in the Scherzo!
Another live document worth experiencing is Leopold Stokowski's radio broadcast from March 14, 1943, with the NBC SO on Cala. Brimful of interpretative incident and intrepid personality, it has a tingling sense of occasion that helps one overlook some decidedly unconventional tempi, the odd misreading and the conductor's fondness for some inappropriately glamorous, at times positively swooning slides from the otherwise immaculate NBC strings.
Back to Britain
Time to return to Blighty, and assess the achievement in this symphony of the composer's most tireless champion, Sir Adrian Boult. Of the conductor's two commercial recordings it's the earlier Decca mono account from 1953 that generates the greater intensity and authentic atmosphere. For all the LPO's occasional unkemptness, the composer (who attended the Kingsway Hall sessions) must have been gladdened by the abundant application on show. Boult never pushes too hard; his direction is sane, clear-sighted and typically humane. Some will find the mood insufficiently confrontational: witness the element of jocularity in the brass's 'oompah' punctuations that Sir Adrian locates in the first half of the finale.
Neither Boult's 1968 stereo remake for EMI with the New Philharmonia nor André Previn's LSO recording for RCA from the following year feature in the final running; indeed, the latter turns out to be a clunker – laboured, piecemeal, earthbound and with precious else to redeem it save for its flattering, impressively well-lit sound. Compared to the glib Previn, Boult keeps an infinitely firmer grip on the structural tiller, but, to be honest, the fires have dimmed just a little and the finished product doesn't always set the pulse racing. Nor do the New Philharmonia sound entirely geared up for the task in hand – the slow movement in particular is not always untouched by a suggestion of weary routine.
Happily, I detect altogether greater motivation about the LSO's contribution on two Chandos releases, both of which feature fondly remembered conductors who left us too all too soon. The Fourth always was one of the strongest components in Bryden Thomson's Vaughan Williams symphony cycle, and rehearing it in the present context has merely increased my admiration for a reading of such judicious observation, invigorating spirit and deep‑rooted mystery (the double basses' ad libitum low D flat on the closing page of the first movement really tells here). Sometimes the capacious church acoustic blunts bite and detail – and in the finale the timpanist enters two crotchets early at four bars after fig 5 (1'06") – but these are minor caveats when the performance overall has plenty to commend it.
On his sumptuously engineered 2001 recording Richard Hickox cuts an altogether bluffer figure. Notwithstanding the dapper playing and frequently lustrous body of tone he elicits from the LSO, his energetic conception lacks the satisfying coherence of Thomson's, and the slow movement in particular is wanting in crackling tension and probing wonder. In the Scherzo, the cymbal's three jagged interjections at 0'33", 2'01" and 3'50" are weirdly flattened out to become three plain crotchets. I'd also have welcomed greater light and shade – truly soft sounds are in comparatively short supply.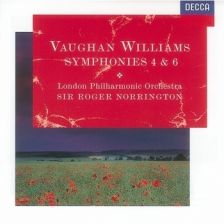 Only two months separate two recordings featuring the LPO under Bernard Haitink and Sir Roger Norrington (for EMI and Decca respectively) – and there's no doubt in my mind as to the clear winner! Haitink's account pretty much has everything one could desire: unbounded musicality, entrancing wholeness of vision and purposefulness, complemented in turn by orchestral playing of the very highest quality (indeed, the LPO's response throughout simply blazes with eloquence, trust and conviction). Never forcing the pace nor losing the thread, Haitink lets the music do the the talking, and his utterly engrossing interpretation yields enormous pleasure (his handling of the slow movement is a marvel of profound compassion). By contrast, Norrington's traversal is a curiously detached affair – pristine, short-winded and almost fussy in its obsessive attention to detail. He's also not afraid to throw in a few dynamic emendations of his own: his tweaking of the cellos' and double basses'pizzicato tread at the start of the slow movement strikes me as mannered in the extreme. The LPO prove stylish protagonists but the overall mood is unhelpfully clinical, an observation which extends to the Decca recording (the low winds extraordinarily transparent, but with double basses grunting a tad too obtrusively for my own liking).
Let me conclude on a high, though, with Paavo Berglund's 1979 version with the RPO. Set down at Abbey Road Studio No 1 for EMI, his reading possesses an uncompromising thrust, rugged grip and invincibility that irresistibly call to mind the composer's own recording. Only once does the Finn slip up, I feel, and that's at the slow movement's cymbal-topped peak in and around fig 9 (6'08"), where he slams on the brakes for a few bars to awkward effect. That isolated miscalculation aside, this is a worthy memorial to a much-missed conductor of uncommon integrity and selfless dedication – and it sounds as full-bodied as ever in its most recent incarnation (within an excellent Warner Classics Icon box which also includes the eagerly awaited first CD appearance of Berglund's majestic Nielsen Fifth from 1974 with the Bournemouth SO).
The verdict
Berglund easily makes it on to my own shortlist, alongside Handley, Haitink and Oundjian. Among the historic contenders, Vaughan Williams himself, Barbirolli, Boult (1953) and Mitropoulos's two versions also demand to be heard. In matters of interpretation, the composer remains my touchstone, but the shellac sound may prove a stumbling block for first-timers.
So my all-round choice for the shelves? Well, in the end it's a fearsomely close-run thing between Handley and Haitink, but by a whisker the victory palm goes to the Dutchman, whose incomparably lucid, resplendently played and intensely stimulating interpretation never fails to engage both head and heart.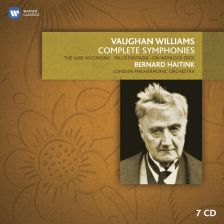 The Top Choice
LPO / Bernard Haitink 
(Warner Classics)
Bernard Haitink allows Vaughan Williams's rivetingly cogent symphonic drama to unfold without artifice. There's no hidden agenda here – and absolutely no want of fire either! – just toweringly eloquent music-making, superlatively captured by the microphones. Drawing glorious playing from the LPO, the great Dutch maestro has given us a Fourth for the ages.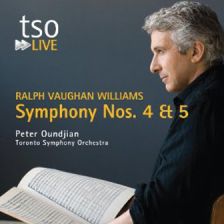 The Dark Horse
Toronto SO / Peter Oundjian
(TSO Live) 
Peter Oundjian outshines many a more celebrated rival in this symphony. His is a consistently illuminating, pleasingly unforced conception, complemented by splendidly articulate and dedicated work from the Toronto band.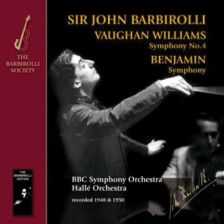 The Unnerving Choice
BBC SO / Sir John Barbirolli 
(Barbirolli Society)
Barbirolli's remarkably spacious 1950 live performance lives more dangerously than any other in our survey. The bare-faced fury of the symphony's culmination has to be heard to be believed, its final hammer-blow a brutal, sickening thud.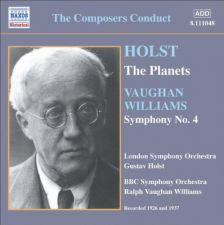 The Historic Choice
BBC SO / Ralph Vaughan Williams 
(Naxos)
The passing years have not dimmed the burning intensity and raw power of Vaughan Williams's own world premiere recording from 1937. Mark Obert-Thorn's transfer for Naxos is exemplary, and this deserves a place in every collection.
Selected discography
Date / Artists / Record company (review date)
1937 BBC SO / Vaughan Williams / Naxos 8 111048; Dutton CDBP9731 (6/95R)
1943  NBC SO / Stokowski / Cala CACD0528 (nla)
1950 BBC SO / Barbirolli / Barbirolli Society SJB1064 (3/13)
1953  LPO / Boult / Decca 473 241-2DC5 (2/03)
1953 New York PO / Mitropoulos / Music and Arts CD1214
1956  New York PO / Mitropoulos / Sony Classical 88883 73718-2 (1/58R)
1963  BBC SO / Sargent / BBC Legends BBCL4237-2 (10/08)
1965  NYPO / Bernstein / Sony Classical (60 discs) 88697 68365-2 (5/69R)
1968  New Philh Orch / Boult / EMI 087484-2; 903567-2 (6/68R, 1/01R)
1969  LSO / Previn / RCA 82876 55708-2 (nla)
1973  Boston SO / C Davis / BSO Classics (from bso.org)
1979  RPO / Berglund / EMI 216146-2 (2/81R, 1/98R); Warner 019255-2 (1/14)
1987  LSO / Thomson / Chandos CHAN8633 (1/89); CHAN9087
1991  RLPO / Handley / CfP 575310-2 (11/92R); 575760-2
1991  Philh Orch / Slatkin / RCA 88697 90249-2 (11/93R)
1992  BBC SO / A Davis / Warner Classics 2564 69848-3 (2/94R)
1996  LPO / Haitink / Warner Classics 984759-2 (5/98R)
1997  LPO / Norrington / Decca 458 658-2DH (10/98)
2001  LSO / Hickox / Chandos CHAN9984 (7/02); CHSA5003
2003  Bournemouth SO / Daniel / Naxos 8 557276 (12/04); 8 506017
2010  American SO / Botstein / American Symphony Orchestra (from americansymphony.org)
2011  Toronto SO / Oundjian / TSO Live TSO0311 (5/12)
2011  Oregon SO / Kalmar / Pentatone PTC5186 393
This article originally appeared in the May 2014 issue of Gramophone.