1923
2 December:
Maria Anna Sophia Cecilia Kalogeropoulou is born in
New York. Her parents, Evangelia and George Kalogeropoulos, had
emigrated from Greece to Long Island, New York, in August 1923.
1929
George Kalogeropoulos sets up a pharmacy in a Greek quarter of
Manhattan; he changes the family name to Callas.
1932
Maria is given her first piano lessons; later in life she is able to study all her roles at the piano without the help of a répétiteur.
1937
The Callas parents separate. Evangelia returns to Greece with her
two daughters Yacinthy (known as Jackie) and Maria and changes
the family name back to Kalogeropoulo.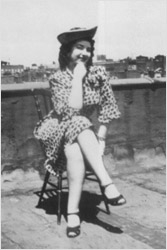 1938
Maria Kalogeropoulou is admitted to the National Conservatory in
Athens despite being younger than the minimum age requirement of 16; she begins her studies under Maria Trivella.
11 April: Appears with fellow students in first public recital.
1939
2 April: Maria makes her stage debut as Santuzza in a student
production of Cavalleria rusticana and wins the Conservatory's prize. Elvira de Hidalgo becomes Maria's teacher and concentrates on coloratura training.
1940
21 October: First engagement with the Lyric Theatre Company,
singing songs in Shakespeare's Merchant of Venice at the Royal Theatre in Athens.
1941
21 January: Makes her professional operatic debut as Beatrice in
Boccaccio at the Palas Cinema, Athens, with the Lyric Theatre
Company, with whom she will sing in Tosca, Tiefland, Cavalleria
rusticana, Fidelio and Der Bettelstudent during the next four years.
1942
27 August: Sings Tosca for the first time in Greek at an open-air
performance at the Park Summer Theatre, Klafthmonos Square.
1944
The occupying forces lose control over Greece; the British fleet arrives in Piraeus. Maria Kalogeropoulou decides to return to the USA and find her father.
1945
3 August: Gives a 'farewell' concert in Athens, her first solo recital,
to raise money for her journey to the USA.
September: Returns to New York and takes up the name of
Callas again.
December: She auditions for the Metropolitan Opera but fails to
secure an engagement.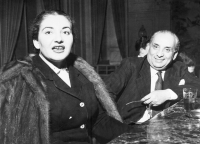 1946
Tries unsuccessfully to find work but continues strenuous vocal practice to perfect her technique; meets agent Eddie Bagarozy. She accepts an engagement to sing in Turandot in Chicago inJanuary 1947 with a cast of celebrated European singers in a new company to be founded by Bagarozy and Ottavio Scotto, an Italian impresario.
1947
January: The Chicago company goes bankrupt a few days before
its scheduled opening performance. A member of the company (the Italian bass Nicola Rossi-Lemeni) introduces Callas to Giovanni Zenatello, who is in the USA to find singers for the 1947 Verona Opera Festival; he engages Callas to sing in La Gioconda.
27 June: Callas arrives in Naples and goes the next day to Verona
to begin rehearsals; in Verona she meets Giovanni Battista Meneghini (above), a wealthy Italian industrialist and opera lover, 28 years her senior.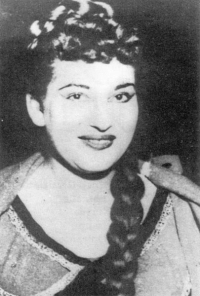 2 August: Makes her Italian debut in the Arena at Verona in
La Gioconda conducted by Tullio Serafin. The performances are
successful enough but Callas makes no special impression and the expected offers of further work do not materialise.
30 December: Sings Isolde in Italian under Serafin at La Fenice in Venice; this leads to further engagements in Italy, mainly in Turandot.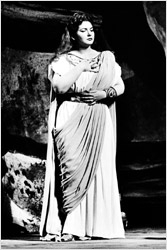 1948
30 November: In Florence, Callas sings Norma for the first time: this is the opera she will eventually perform more than any other during her career.
1949
19 January: Having just sung her first Brünnhilde in Die Walküre
11 days earlier, Callas, at the insistence of Serafin, replaces the
indisposed Margherita Carosio in the coloratura role of Elvira
in I puritani at La Fenice. The operatic world is stunned by her
performance. This is the turning point in Callas's career and the start of her involvement in the rehabilitation of the Italian bel canto repertoire.
21 April: Marries Meneghini in Verona and sails that night for
Argentina to sing at the Teatro Colón in Buenos Aires.
Helped by Meneghini as both husband and manager, Callas develops her career in Italy and abroad during the next two years.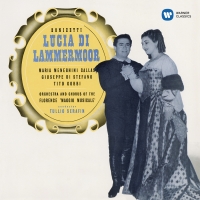 1951
7 December: Callas opens the season at La Scala, Milan, in I vespri siciliani to great acclaim; during the next seven years La Scala will be the scene of her greatest triumphs in a wide range of roles.
1952
29 July: Callas signs a recording contract with EMI.
1953
February: First commercial recording for EMI is Lucia di Lammermoor, recorded in Florence. Later in the year Callas begins a series of complete opera recordings at La Scala, starting with I puritani and Cavalleria rusticana conducted by Serafin, followed by Tosca conducted by Victor de Sabata.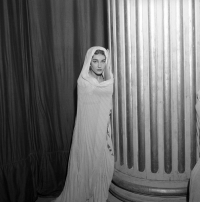 1954
Callas reduces her weight by 30 kilos and her appearance changes dramatically. She records a further four complete operas at La Scala and her first two recital discs in London.
November: She returns to the USA to sing Norma, La traviataand Lucia di Lammermoor in Chicago.
December: She opens the season at La Scala in La vestale(pictured below), working for the first time with theatre and film director Luchino Visconti.
1956
29 October: Sings for the first time at the Metropolitan Opera,
New York, in Norma, followed by Tosca and Lucia.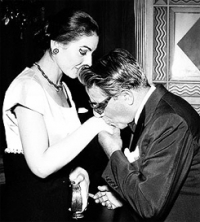 1957
September: Elsa Maxwell, the American society hostess, introduces the Meneghinis to the Greek shipping magnate Aristotle Onassis (pictured) at a party in Venice.
1958
2 January: Pleading illness, Callas cancels after the first act of a gala performance of Norma in Rome, attended by the President of Italy and all of Rome society; she is harshly criticised in the media.
May: At La Scala during performances of Il pirata she quarrels with the general director, Antonio Ghiringhelli, and decides not to appear again at La Scala while he remains in charge.
6 November: Rudolf Bing, director of the Metropolitan Opera, fires Callas after failing to reach agreement with her on performances for the next season.
19 December: She makes a sensational debut in Paris in a gala
concert at the Paris Opéra; celebrities in the audience include
Onassis, who begins to take a closer interest in Callas.
1959
By this time Callas has fewer professional engagements. She and
Meneghini are invited for a cruise in July on Onassis's yacht, the
Christina, with several other guests including the Churchills; by the
end of the cruise Callas and Onassis are lovers and the Meneghini
marriage is over.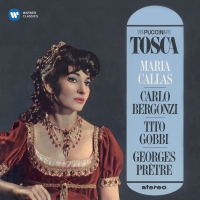 1960–63
Callas curtails her stage appearances and devotes herself to the international high life with Onassis; by 1962 she is performing only at a few concerts. It has been alleged that in March 1960 Callas gave birth to a son by Onassis, but the child died the same day.
1964
January: Franco Zeffirelli persuades Callas to return to opera at
Covent Garden in a memorable new production of Tosca that is highly praised on all counts.
May: Callas appears in Paris in Norma, directed by Zeffirelli, in a
spectacular staging that is to be her last new production; despite some vocal problems, the performances are successful overall.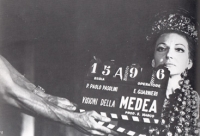 1965
February: She sings nine performances of Tosca in Paris.
March: She makes a triumphant return to the Metropolitan in
New York in two performances of Tosca.
May: She undertakes a further series of five performances ofNorma in Paris; she feels tired but does not want to cancel.
On 29 May she finishes Act II Scene 1 practically in a coma; the final scene is cancelled.
July: She is scheduled to sing four performances of Tosca at Covent Garden. She is advised on medical grounds to withdraw but she decides to sing just once; she chooses the Royal Gala on 5 July, which turns out to be her final appearance on the operatic stage.
1966
Callas relinquishes her American citizenship and takes Greek
nationality, thereby technically annulling her marriage to Meneghini; she expects Onassis to marry her but he does not.
1968
20 October: After cooling his relationship with Callas, Onassis
marries Jacqueline Kennedy, widow of assassinated US president
John F. Kennedy; Callas is devastated.
1969
June–July: Callas plays Medea in a non-operatic film of the play
by Euripides, directed by Pier Paolo Pasolini: it is not a commercial
success.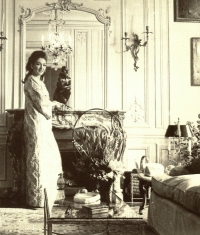 1971–72
Callas gives a series of masterclasses at the Juilliard School of Music in New York. She meets up again with her old colleague, the tenor Giuseppe di Stefano, and the two become close friends.
1973
Di Stefano persuades Callas to undertake an extensive international recital tour with him. The tour, a personal triumph but an artistic failure, begins in Hamburg on 25 October and continues into 1974.
1974
11 November: The final concert of the tour with Di Stefano takes place in Sapporo, Japan: this is Callas's last public performance.
The liaison with Di Stefano finishes. Onassis tries to rekindle his
relationship with Callas but she refuses to have him back while he
remains married to Jacqueline.
1975
15 March: Onassis dies after an operation on his gall bladder;
Callas is by now a virtual recluse in Paris.
1977
16 September: Alone in her apartment, Callas dies following a
suspected heart attack.
Chronology by Tony Locantro, 2014