1. It's cheaper than football
For perhaps the first time in history, it's cheaper to go to the opera than a football match. If you're a student, you can go to the Royal Opera House for a tenner. The cheapest ticket for an Arsenal game this season is £26. So go home, football, and take your ball with you.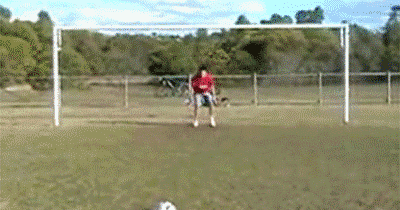 (via The Chive)
2. It's viral
Valentina Lisitsa's YouTube channel has had 68,316,202 views. And violinist Lindsey Stirling half a billion. And The Piano Guys have 2.5 million YouTube subscribers. So y'know, no biggie.
3. It's in cinemas all over the country
Cinemas now regularly show packed audiences the latest productions from the Bolshoi, the Met, the Royal Opera House and plenty more. So if you're sick of the Royal Opera House's hard-line policies on popcorn and doing 'the yawning trick' on strangers, this is the way to go.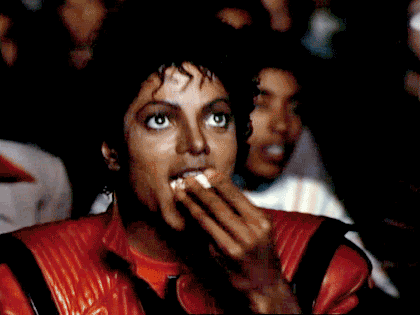 (via Replygif)
4. Eric Whitacre is amazing on social media
One of the great composers of today, Eric Whitacre is using social media to share ideas, connect with fans and encourage new composers. And his hair is divine.
5. Innovative concerts are thriving
The Bristol Proms, OAE Night Shift, Opera Up Close and countless others are allowing you to combine lager and Locatelli with concerts in some unexpected locations. Here's Lang Lang perfuming on a lake at the Latitude festival in 2012. He arrived at the stage on a gondola. No joke.
6. El Sistema
After making real, social differences in Venzuela, the El Sistema project (headed up by Gustavo Dudamel, pictured) has successfully transferred to the UK, and it looks to be working similar miracles.Nicola Benedetti and Julian Lloyd Webber are all over it, giving it a little extra classical clout. But the original system didn't just bring classical music to a generation, it helped them rebuild a society.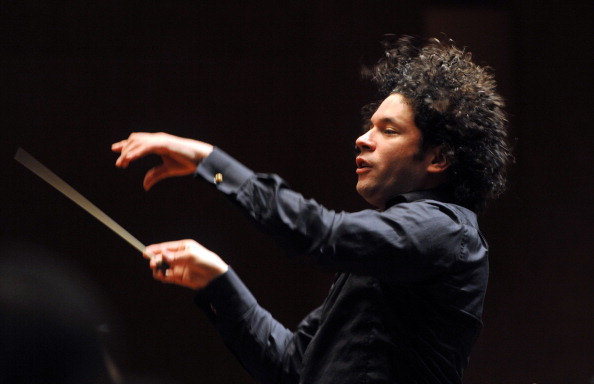 7. Baroque music keeps on being relevant
No matter how old-fashioned it may sound, baroque music has this uncanny knack for turning up in the most unexpected places. Most recently and delightfully, baroque concertos are being transposed by dreadlocked muthas everywhere for the electric guitar. Horns up, tierce de Picardie fans.
8. Nicola Benedetti in general
The classical music world has one of the greatest acolytes in any industry in the shape of Nicola Benedetti. Big on education, down on arts cuts, a world-class violinist and a massive Korngold fan – Benzo, we salute you.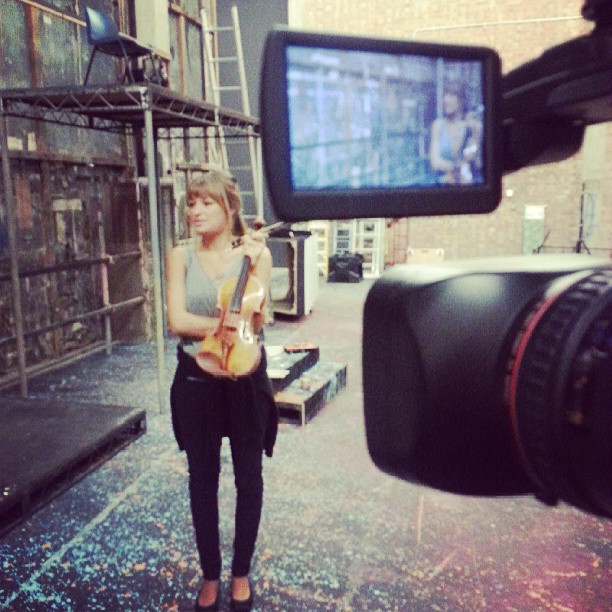 9. The internet has made everything better
How else would we ever get to see things like this? The fact that it's possible for literally anybody to upload a video of themselves playing or singing has turned the classical music world into an incredible democracy.
10. The unstoppable André Rieu
Love him or hate him, you can't deny that André Rieu has radically popularised some of the more accessible tunes in the classical canon. He's also made more money than Croesus while he's at it, thereby pumping more dosh back into younger, newer artists. Also, this one time, he was on Neighbours, and it was the greatest thing that has ever happened on television. So there's that
11. More people are going to concerts
According to the Association of British Orchestras , audiences at classical concerts in the UK have gone up 16% since 2010. So that's more bums on seats, more money at the bar and more orchestras getting paid. We even asked the ABO outright if classical music was dead, and they gave us a lengthy, beat-around-the-bush response: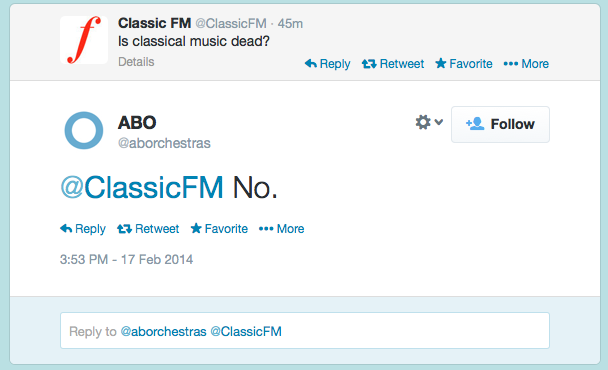 And so did the ENO: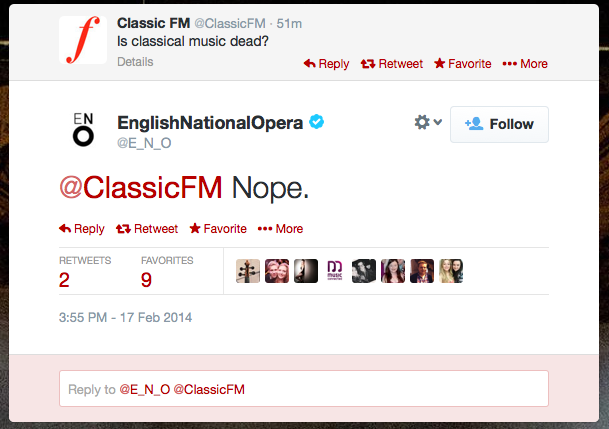 12. Video game music is booming
In what is becoming one of the biggest entertainment industries in the world ever, video games, the music is increasingly becoming more vital. Concerts of video game music sell out the Royal Albert Hall in a matter of hours. And who do those in the know turn to provide epic, innovative scores? Classically trained nerds with awesome home studios, that's who. Listen to the geeks cheering!
13. It's fuelling the future of pop
Clean Bandit, a Cambridge string quartet who started out by remixing Dvorak in a reggae style (wait, come back!), have ended up at the top of the UK singles charts with their single 'Rather Be'. And they're not just a novelty act. They can play and everything.