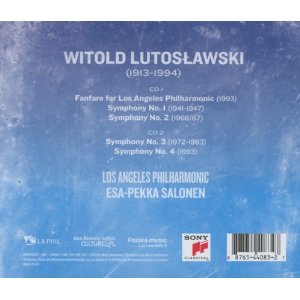 2013 marks the centenary of Lutosławski's birth.
Polish composer and orchestral conductor Witold Roman Lutosławski  (25 January 1913 – 7 February 1994) was one of the major European composers of the 20th century, his compositions  include four symphonies, a Concerto for Orchestra, a string quartet, several instrumental concertos and orchestral song cycles, he is regarded as the greatest Polish composer since Chopin.
The four symphonies that show the details some of the later transformations in Lutoslawski's thinking. This Sony recording by E.P. Salonen conducting Los Angeles Philharmonic Orchestra is an authentic reference for someone who wants to hear the most beautiful  masterpieces by Lutoslawski.
[asa]B00AK3X3M4[/asa]
[asa]B000002AQ0[/asa]