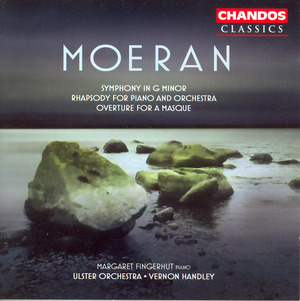 Ernest John  Moeran (1894-1950) was one of the last major English composers to be heavily influenced by English folk-song , there regional folk songs always permeate his music, and  the influence of the nature and landscapes of Norfolk and Ireland are also often evident in his music.
[asa]B003EN2S0U[/asa]
[asa]B000000AS8[/asa]
Symphony in G minor (1934–1937) generally regarded as his masterpiece is that the only symphony he ever wrote.
[asa]B00013BOFG[/asa]
Gathered here are three folk- music-inspired rhapsodies, with the third for piano and orchestra. The themes are sweeping, lyrical and thoroughly British – or more probably  the soul of the Irish.
[asa]B000000AHS[/asa]
[asa]B0002NRRNS[/asa]
Moeran's cello concerto which contains more interesting orchestral colors is as good as any other more well-known works (Dvorak, Elgar etc.), it's without question one of the finest 20th-century concertos. The Violin Concerto, sensed in the Irish influence is both a soberly Romantic and homespun musical landscape.
[asa]B00013BOF6[/asa]
[asa]B000000AK2[/asa]
Another facet to the music of Moeran is the madrigal. Moeran was capable of staggering harmonic invention whilst working within the madrigal form  full of contradictions and added-note chords to produce music of outstanding freshness and originality.
[asa]B000000AS8[/asa]