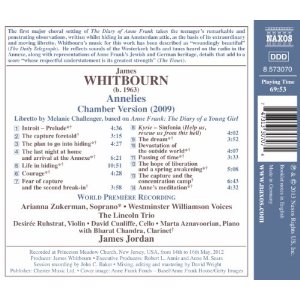 We wanted to point to the fact that Anne Frank's  story and the events of the holocaust are not just the story of an individual or indeed of a race or nation – it's something that involved many people from all religions. That universal cry of mercy is a deliberately non-Jewish insertion—–James Whitbourn
British composer and conductor James Whitbourn is the first to compose a major choral setting of the Diary of Anne Frank. The work is scored for choir, soprano and chamber orchestra all which work together to produce a profound musical and personal experience.
The first major choral setting of The Diary of Anne Frank takes the teenager's remarkable and
penetrating observations, written whilst hiding in an Amsterdam attic, as the basis of its extraordinary
and moving libretto. Whitbourn's music for this work has been described as 'woundingly beautiful'
(The Daily Telegraph). He reflects sounds of the Westerkerk bells and tunes heard on the radio in the
Annexe, along with representations of Anne Frank's Jewish and German heritage, details that add to a
score 'whose respectful understatement is its greatest strength' (The Times).
A recording of James Whitbourn's 'Annelies' on Naxos, performed by soprano Arianna Zukerman, Westminster Williamson Voices, The Lincoln Trio and conducted by James Jordan.
[asa]B00A8QBFQE[/asa]