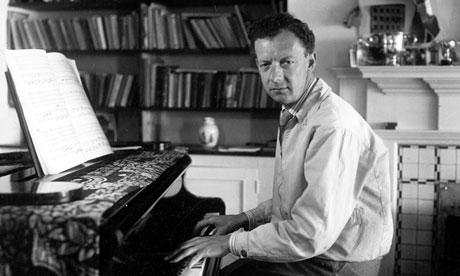 A new biography of Benjamin Britten has suggested that tertiary syphilis may have contributed to his death.
The British composer died in 1976 of aortic incompetence – a condition in which blood leaks through a valve in the heart causing it to become gradually weaker – but, says Paul Kildea, the author of Benjamin Britten: A Life in the 20th Century, it was the presence of syphilis that prevented Britten from being successfully treated for the condition.
'Syphilis did not kill him,' Kildea has told The Guardian, 'but it meant that his heart was not in the condition required to recover completely from the procedure he underwent and from which his consultant expected him to make a full recovery.'
If indeed Britten did have the disease, it is not entirely surprising that it was kept secret at the time of his death – given the stigma attached to syphilis, those close to the composer would have seen little value in making it widely known. Kildea, though, speculates that Britten probably caught it from his lover Peter Pears, who was believed to have played the field widely during their relationship.
With no post-mortem having been carried out, and most of those who knew Britten well now either deceased or choosing to remain silent, Kildea's theory is unlikely ever to be proved or disproved. However, if true, he joins a not inconsiderable list of leading composers to have suffered from the disease, including Schubert, Schumann, Delius and Scott Joplin.
By Jeremy Pound/BBC