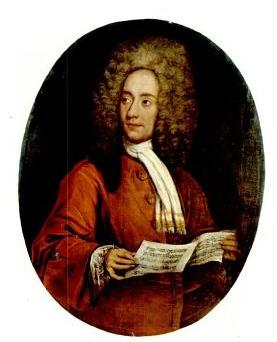 TOMASO GIOVANNI ALBINONI  
(1671 – 1751)
A contemporary of Vivaldi in Venice, Albinoni claimed to have written some 80 operas (which are now generally neglected) and a variety of instrumental works, many of which remain in chamber-orchestra repertoire.
Orchestral Music
The most popular work associated with the name of Albinoni is the spurious but delightful Adagio by the musicologist Remo Giazotto, apparently based on a genuine fragment by Albinoni himself. Albinoni did write some 54 concertos. Of these the set of 12 for strings, Op. 5, the 12 Oboe Concertos, Op. 7, the set of a dozen varied concertos, Op. 9 and the Violin Concertos, Op. 10 repay attention.
Chamber Music
Chamber music by Albinoni includes two attractive works written for trumpet and strings, the Sonata a 6 and the Sonata di concerto a 7, as well as four sets of trio sonatas.
Opera
Albinoni was prolific and successful as a composer of opera, from his first, Zenobia, regina de'Palmireni, in 1694 to Artamene in 1741. He claimed credit for 80 such works by the time of his penultimate opera in 1734. His Statira, illustrated by an aggressive battle aria with warlike trumpets, was staged in Rome in 1726.