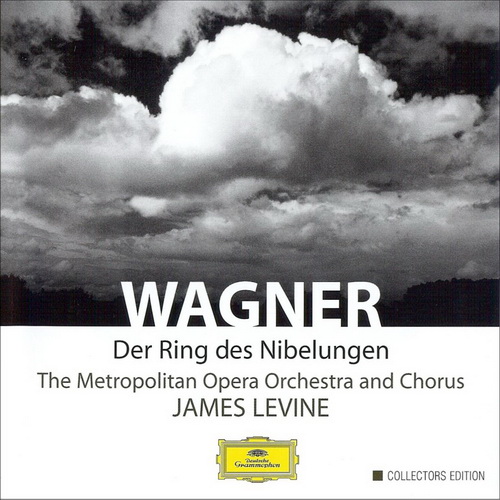 MARK-ANTHONY TURNAGE: 'ANNA NICOLE' Eva-Maria Westbroek, soprano; Royal Opera House Chorus and Orchestra, conducted by Antonio Pappano. (Opus Arte, DVD OA1054D, $29.99; Blu-ray disc, $39.99.) Yes, that Anna Nicole! In February 2011 the Royal Opera in London presented the premiere of "Anna Nicole," an opera about the model, sometime actress and Playboy playmate Anna Nicole Smith, by the composer Mark-Anthony Turnage and the librettist Richard Thomas.
I attended the premiere, fearful that the opera would be tawdry and terrible, that the work would make fun of Smith, who died in 2007 at 39. But it proved a weirdly inspired work: engrossing, entertaining and ultimately quite moving. A DVD of that production, starring the soprano Ms. Westbroek in the title role and conducted by Mr. Pappano, was released this year. Here is an unlikely holiday gift that should delight and fascinate anyone interested in contemporary opera and American popular culture.
WAGNER: 'DER RING DES NIBELUNGEN' Vocal soloists; Metropolitan Opera Orchestra, conducted by James Levine and Fabio Luisi. (Deutsche Grammophon 001725109, eight DVDs, $139.67.)
WAGNER: 'DER RING DES NIBELUNGEN' Vocal soloists; Bayreuth Festival Orchestra, conducted by Pierre Boulez. (Deutsche Grammophon 044007340578, eight DVDs, $90.55.)
For all the criticism heaped on Robert Lepage's production of Wagner's "Ring" cycle for the Metropolitan Opera, this staging, which is dominated by a huge machine of moving planks and video imagery, does have its defenders. DVDs of the production, with conducting duties shared by Mr. Levine and Mr. Luisi (two operas each), were released this fall as a boxed set. Someone you know may be excited to have a document of Mr. Lepage's realization of the work.
But with the Met's production calling attention to Wagner's epic "Ring" cycle, this could be a great time to give an opera lover what for me is still the most gripping, insightful and moving "Ring" on DVD: the Bayreuth production directed by Patrice Chéreau and conducted by Mr. Boulez. When this production, which used imagery of the Industrial Revolution to contextualize Wagner's mythic tale, was introduced in 1976 for the centennial of the "Ring," Mr. Chéreau's staging struck many as brashly modern and outrageous. Looking back now, you'll find it hard to remember what all the fuss was about.
'LEONARD BERNSTEIN'S YOUNG PEOPLE'S CONCERTS' New York Philharmonic, conducted by Leonard Bernstein. (Kultur D1503, nine DVDs, $149.99.)
In 2004 the Kultur company issued a special set containing 25 of Leonard Bernstein's Young People's Concerts from 1958 to 1973, taped in live broadcasts. This collection remains a terrific gift for, you could say, young people of all ages. Bernstein was simply the best music educator ever for general audiences. Talking engagingly yet with remarkable detail and insight, and never speaking down to his young audiences, Bernstein takes on diverse and often sophisticated topics in these programs: the meaning of music, an explication of sonata form, jazz, musical humor, Impressionism, and tributes to composers including Stravinsky, Shostakovich and Mahler. Adults who are longtime concertgoers and even musicians will learn much from the way Bernstein deals with music in these remarkable programs.
'MARTHA ARGERICH: LUGANO CONCERTOS' Martha Argerich, pianist; various artists. (Deutsche Grammophon 028947798842, four CDs, $39.13.)
Ms. Argerich, the Argentine pianist, combines a colossal technique with powerfully instinctive musicianship and electrifying energy. Yet as a performer and a person, she can be tempestuous, chaotic and prone to insecurity. For 30 years she has avoided giving solo recitals, with rare exceptions for special hush-hush concerts or benefits. Yet she has excelled as a concerto soloist and chamber musician and for the last 10 years has thrived during summers at the Lugano Festival in Switzerland.
As a limited release, in a deluxe edition, Deutsche Grammophon has just issued a special four-CD set with live performances involving Ms. Argerich at the festival, in diverse repertory including seven solo concertos played with the Orchestra Della Svizzera Italiana and various conductors: Beethoven's First and Second, Prokofiev's First and Third, Liszt's First, Bartok's Third and the Schumann. This exciting release is an ideal present.
Vivien Schweitzer
'CARNEGIE HALL TREASURES,' by Tim Page. (HarperCollins, $75.)
It is hard to imagine a hideous red skyscraper standing in the space now occupied by Carnegie Hall, but that was a very real possibility before the beloved institution was saved from the wrecking ball in 1958 by Isaac Stern and others. An artist's rendering of the skyscraper is reproduced in this engaging coffee table book. The critic Tim Page offers anecdotes and historical tidbits about the famous space. The book comes with a folder containing reproductions of memorabilia, including sheet music and letters from luminaries and members of the public; tickets; fliers; and programs.
MAHLER: SYMPHONY NO. 8 Various choruses; Simón Bolívar Symphony Orchestra of Venezuela, Los Angeles Philharmonic Orchestra, conducted by Gustavo Dudamel. (Deutsche Grammophon 044007348840, DVD, $24.54.)
Mr. Dudamel, the Venezuelan conductor, has said that he dreamed of leading all of Mahler's symphonies to commemorate the centennial of the composer's death. Early this year he did so, both in Los Angeles and in his native Caracas, with his two orchestras, the Simón Bolívar Symphony and the Los Angeles Philharmonic. In February, in Caracas, Mr. Dudamel conducted an excellent rendition of Mahler's Eighth Symphony ("Symphony of a Thousand"), featuring a fine partnership of orchestras and a variable lineup of soloists, recorded live in the Teresa Carreño Theater. Of particular note is the huge choir, which included some 1,200 children from Venezuela's remarkable system of youth choruses.
'KATHLEEN FERRIER: CENTENARY EDITION' Kathleen Ferrier, contralto; various artists. (Decca 4783589, 15 CDs, $77.17.)
'KATHLEEN FERRIER: THE COMPLETE EMI RECORDINGS' Kathleen Ferrier, contralto; various artists. (EMI Classics 9562842, three CDs, $23.99.)
The centennial of the marvelous contralto Kathleen Ferrier was celebrated recently. From humble roots as a telephone operator near Blackburn, England, Ferrier became one of Britain's favorite singers, her rich, deep voice, with its unusually low range and remarkable expressive qualities, providing solace to a war-torn nation. Ferrier fans, and those curious to learn more, can enjoy the 14 discs included in a Decca boxed set, featuring trademark works by composers including Bach and Mahler, and the English songs she frequently sang. There are also plenty of treats on EMI's contribution to the celebration, a three-disc set of Ferrier's complete recordings on that label.
BACH: 'THE WELL-TEMPERED CLAVIER,' BOOKS 1 AND 2 Andras Schiff, pianist. (ECM New Series 2270-73, four CDs, $54.82.) Those who weren't lucky enough to attend Mr. Schiff's recent performances of Bach's "Well-Tempered Clavier" at the 92nd Street Y can enjoy his masterly interpretation on a new ECM release. Mr. Schiff's playing is all the more remarkable, since he uses no pedal at all, a feat requiring impressive control and legato. Playing with crystalline clarity and a rhythmic buoyancy that highlights the works' dance elements, Mr. Schiff reveals the contrapuntal brilliance and the joy, wit and melancholy of these 24 preludes and fugues.
Zachary Woolfe
WAGNER: 'DER RING DES NIBELUNGEN' Vocal soloists; Vienna Philharmonic, conducted by Georg Solti. (Decca 028947837022, 17 CDs, $318.37.)
The wonders of the "Solti 'Ring,' " as it has long been abbreviated, are well known: the Technicolor sweep of the orchestra and the distinguished cast, including Birgit Nilsson, Hans Hotter and Gustav Neidlinger, among many others. Committed to disc from the late 1950s into the '60s, it changed the scope of what was possible in the recording studio: the kind of project that would be impossible today, if only for financial reasons. Reissued now in a weighty boxed set (complete with documentaries, analysis and photographs) as part of Decca's commemoration of what would have been Solti's 100th birthday, it is a poignant reminder of how far the classical music record industry has fallen.
'FRANCO ZEFFIRELLI: COMPLETE WORKS' Edited by Caterina Napoleone. (Abrams, $150.)
The era of the director Franco Zeffirelli is in its twilight, and Mr. Zeffirelli's name is now synonymous with the dated style of the garish, go-go 1980s. But this lavishly illustrated volume, with illuminating glimpses into his work in opera, theater and film, is an important reminder that Mr. Zeffirelli was once an auteur, a major artist with a vibrant, varied vision: even, at least at one point, modest. "Franco Zeffirelli: Complete Works" is to ordinary books what Mr. Zeffirelli's productions are to ordinary productions: unwieldy and opulent but also beautiful and riveting.
MOZART: 'LA FINTA GIARDINIERA' Vocal soloists; Freiburg Baroque Orchestra, conducted by René Jacobs. (Harmonia Mundi HMC 902126.28, three CDs, $55.99.)
Mr. Jacobs has done it again. His recordings of Mozart's operas bring back some of the thrill that must have attended these works when they were new. "La Finta Giardiniera," one of Mozart's earliest operas, has long hovered in semi-obscurity — not a true rarity but not often performed, either — despite its gorgeous music and acute libretto. Mr. Jacobs, the Freiburg Baroque Orchestra and an alert, excellent cast have located both its uproarious farce and its core of melancholy.
PUCCINI: 'LA BOHÈME' Vocal soloists; Norwegian National Opera Orchestra, conducted by Eivind Gullberg Jensen. (Electric Picture EPC01, DVD, $29.99.)
The director Stefan Herheim creates productions that are larger than life: intellectually charged but joyously theatrical. Little of his work has been captured on DVD, which makes this "Bohème," which he made for the Norwegian National Opera, a must-have. Mr. Herheim deconstructs the traditional sets of the company's previous production, creating a mixture of old and new with a sober twist: Mimi dies of cancer at the start, and the opera is reconfigured as Rodolfo's refusal to admit it. The production is a surreal, moving experience: sometimes mystifying but ultimately haunting.
'ROBERT ASHLEY,' by Kyle Gann. (University of Illinois Press, $25.)
In decades of weird, wonderful operas — sometimes plotted, sometimes esoteric allegories, sometimes abstract — Robert Ashley has changed what is possible with the form. Speech versus singing, popular versus classical music: the traditional divisions blur in a style both idiosyncratic and timeless. Mr. Gann's important new book, chatty and well researched, gives an overview of the life and work of a crucial artist.
Corinna da Fonseca-Wollheim
'MISSION' Cecilia Bartoli, mezzo-soprano; I Barocchisti, conducted by Diego Fasolis. (Decca, CD, $23.30.)
'THE JEWELS OF PARADISE,' by Donna Leon (Atlantic Monthly Press, $25.)
Ms. Bartoli has an eye for spying out unjustly overlooked repertory. Mystery lovers will want to join her on the trail of her latest discovery, Agostino Steffani, an Italian Baroque composer, priest and diplomat, whose secret missions took him across Germany and Northern Europe. Among the opera arias Ms. Bartoli dug up in the archives are some treasures, hypnotic, slow numbers in which voice and accompanying strings circle each other like spinning planets and jubilant vehicles for her rapid-fire coloratura singing. Mr. Fasolis stokes the fire with an impetuous period-instrument ensemble.
For an additional stocking stuffer throw in the novel "The Jewels of Paradise," by Ms. Leon, the author of the Brunetti mysteries, in which a young researcher traces Steffani's legacy in the dusty archives of Venice.
'1612 ITALIAN VESPERS' I Fagiolini, conducted by Robert Hollingworth. (Decca 028947835066, CD, $20.08.)
Among the most memorable musical events of last season was the New York Philharmonic's performance of 20th-century spatial music in the Park Avenue Armory. With its recording of Italian vespers from 1612, the maverick English early-music ensemble I Fagiolini brings to life an earlier period of architectural music that reached its apogee 400 years ago with the death of Giovanni Gabrieli. His 28-voice Magnificat is here reconstructed for the first time, alongside the four-choir Vesper Psalms by Lodovico Grossi da Viadana, and other rarities.
BACH: 'ST. MATTHEW PASSION' Vocal soloists; Berlin Radio Chorus, Berlin Philharmonic, conducted by Simon Rattle. (Berliner Philharmoniker BPH120011, DVD, $29.75; Blu-ray disc, $37.50.)It sounded like a risky undertaking to put the iconoclastic director Peter Sellars in charge of a dramatic staging of a "St. Matthew Passion" in the Berliner Philharmonie. But the resulting "ritualization" of Bach's oratorio, captured on DVD, is most riveting and moving. Mr. Sellars has the choirs and orchestras facing each other in the round, turning the Passion into a soul-searching dialogue between individual and society, man and God.
Instrumentalists and singers, too, enter into communion with one another, as in "Geduld, wenn mich falsche Zungen stechen," where the tenor Topi Lehtipuu kneels at the feet of the viola da gamba soloist, or "Erbarme dich, mein Gott," which becomes a private prayer for Magdalena Kozena and Daniel Stabrawa, who plays the obbligato violin part with eyes closed. Mark Padmore, as the Evangelist, sheds real tears.
'LOVE AND LONGING' Magdalena Kozena, mezzo-soprano; Berlin Philharmonic, conducted by Simon Rattle. (Deutsche Grammophon 028947900658, CD, $19.17.) Ms. Kozena also teams up with her husband, Mr. Rattle, and his Berlin Philharmonic in "Love and Longing," a live recording of orchestral songs by Dvorak, Ravel and Mahler. Dvorak's rarely recorded "Biblical Songs" are impassioned prayers and voluptuous Psalm settings that show off Ms. Kozena's burnished mezzo. The orchestra sounds splendid in Ravel's "Shéhérazade"; Mahler's "Rückert Lieder" call forth a more austere and concentrated mode of expression.
By ANTHONY TOMMASINI  from